Use our Installation Services for New Residential and Commercial Garage Doors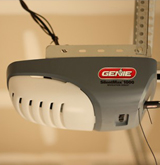 JFK Garage Door Repair offers top notch garage door services because we use the most advanced technology while applying only the most professional expertise for the most competitive prices in the industry.
As a pioneer in the garage door and garage door opener industry since 1999, and with the widest coverage in Queens , NY and surrounding areas, we specialize in all types of commercial and residential garage doors services.
Our excellent customer service staff offer free phone consultations to assist customers with choosing the right brand, materials, insulation, style, design, and price to create the ideal garage door curb appeal for their home.
OR Click Here to Design Your Door Online
Choose the Brand                                                                                                                                                                                                                                                                                                                  If you're considering about purchasing a brand new garage door for your property in Queens, JFK Garage Door Repair features a variety of major brand name garage doors brands from manufacturers such as Liftmaster, Indelicate, Clopay, Lowes, Craftsman, Genie, and other popular names. We offer great rates for garage door sales with garage door installation service by our licensed and insured technicians. All garage door products come with the manufacturer's warranty and a labor's warranty.
Choose the Amount of Insulation
When it comes to insulation, the right amount that you will need depends on your region and its climate. Since the garage door is usually the primary entrance to the home and, in some cases, with living space beside or above it, it benefits homeowners when a garage door is insulated enough to keep the temperature in the garage as comfortable as possible. It will also help to significantly lower heating expenses in cold regions by preventing the warmth from escaping outside through the drafts. The higher the 'R-value' of your garage door, the more effective the insulation. An insulated door has a more attractive interior and is generally quieter than a non-insulated door. We offer a variety of garage doors, with varying degrees of insulation, to best suit your home's needs. Call JFK Garage Door Repair Company to help you find out the right amount of insulation your garage door will need.
Choose the Material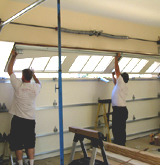 Choosing the right material of your door will determine its appearance, its durability, the longevity of your door, and the annual maintenance cost it may require. With many garage doors being made of steel, for its durability and low maintenance, some steel doors can dent or rust when not properly maintained. In contrast, vinyl garage doors are more resistant to dents and are rust-free so they never need to be painted; however, vinyl garage doors are not recommended for regions with high elevation or extreme heat. Classically, real wood garage doors, with its natural beauty and fine craftsmanship, require regular maintenance to upkeep its appearance, usually involving painting, staining and water sealing every few years, depending on the degree of sun or water exposure. In comparison, a garage door with a fiberglass exterior can help you achieve the look of a stained wood door, featuring the fine wood grain of a real wood door, even up close, without as much maintenance as a wood door. Fiberglass garage doors only require an application of clear protectant, depending on the degree of exposure, every few years. Finally, an aluminum and glass garage door offer a modern and sophisticated look in many colors and finishes options, and are relatively maintenance-free. However, they are not ideal for areas with extreme temperatures because they may not have as much insulation as other garage doors. A professional at JFK Garage Door Repair would be more than happy to help you pick out the right new garage door for your needs.
Allow us to provide you with superior value with high quality service and competitive prices.
Call JFK Garage Doors at: 347-997-3394/5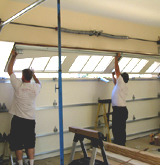 JFK Services for New Garage Doors:
We service and repair all brands
Residential and Commercial Garage Door New Installation
24 Hour Garage Door Repair
i.e. Springs, cables, rollers, tracks, panels, openers
Same day Emergency Garage Door Repair Service
Out-of-Track Overhead Doors Repair
Garage Door Overhaul
Garage Door Alignments
Garage Door Latches and Locks Installation
Garage Door Keyless Entry System Installations
Garage Door Key Switch Entry
Garage Door Opener Installation
Garage Door Motion Detectors and Sensors
Garage Door Sectional Replacements
Garage Door Remote Transmitters
Noisy Garage Doors Silenced
Arverne,Astoria,BayTerrace,Bayside,Bayswater,Beechhurst,,Bellerose,Briarwoodl ,Cambria Heights,College Point,Corona,Douglaston,East Elmhurst Elmhurst,Far Rockaway,Floral Park,Flushing,Forest Hills,Fresh Meadows,Glen Oaks Glendale Hillcrest,Hollis Hills,Holliswood,Howard Beach,Jackson Heights ,Jamaica ,Jamaica Estates,Kew Gardens ,Lindenwood,Little Neck,Long Island City,Maspeth,Middle Village ,New Hyde Park,Ozone Park,Rego Park,Richmond Hill ,Ridgewood ,Rockaway ,Rosedale ,Queens Village ,Saint Albans,Springfield Gardens,Sunnyside,Whitestone ,Woodhaven,Woodside,and all Queens New York Areas…