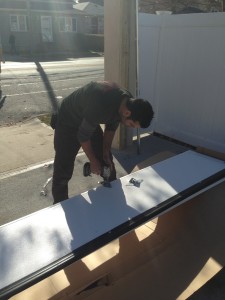 As a precautionary word of advice, never attempt to do garage door repair work yourself without a field licensed and solid experience; instead, It is crucial to understand that a garage door repair is not a do-it-yourself job because the large size and enormous weight of a garage door can be very dangerous to your personal safety and your property as well. JFK Garage Door Repair is a local garage door repair service company that services all of Queens, New York. Highly-trained garage door technicians are always available in the Queens area, any day and at all hours of the day, whenever you need to call on one to come by to expertly diagnose your garage door repair problem and to tell you the best solution for it.
JFK Garage Door Repair Company's licensed and insured garage door technicians are the best in Queens. When you schedule for one of our technicians to come down for an inspection, you will see that they are very polite and professional as well as highly-skilled. They will explain the problem to you and give prices before they start working so that you can make the best informed decision for your garage door repair. Having a damaged or broken garage door is already a complicated, out-of-hand situation, but having control over the repairs will, reassuringly, remain in your hands.
There are no garage door problem that JFK Garage Door Company's technicians can not handle. Many of our customers call in for repairs on these popular problems: damaged, broken, or loose springs, cables, hardware parts, and panels.
To convince you further to not handle garage door repairs yourself, spring repair is one of the most dangerous garage door part to repair. When the garage door runs open, garage door springs are pulled and help to counterbalance the gravity of a heavy garage door. There are two types of garage door springs. A extension spring is huge and heavy duty, located on the top of the garage door. A torsion spring is smaller and is located on the sides of the garage door. Both types are high-tensioned and thus, very dangerous to deal with when springs get loosen or even break over time. If something happens to the hardware parts that holds and secures the spring in place, then the spring can shoot across the garage with great force that it can cause physical harm, and even death, or severe damage to your vehicle and other property. Please do not do spring repair work yourself.
Call us Today To Schedule Free Estimate (347)997-3394/5